Overview of Services
The Metabolic Physiology Shared Resource (MPSR) (Kevin Niswender, MD, Ph.D., Director) assists investigators wishing to address hypotheses related to diabetes and metabolism. The Rat Metabolic Physiology Core (RMPC) is a section of the MPSR that provides novel techniques to better understand specifically rat models of diabetes and its complications.
The RMPC offers a variety of services including:
Chronic artery &/or vein cannulation
Chronic ileal vein cannulation
Chronic portal vein cannulation
Insulin clamps
Pancreatic clamps
and more...
Our Goals
broaden the scope of techniques available to investigators

standardize key methodologies

expedite the completion of research
*The Vanderbilt University Medical Center (VUMC) Metabolic Physiology Shared Resource Core (MPSR) is supported by Diabetes Research Training Center (DRTC) NIH grant DK020593. Please acknowledge this in your publications*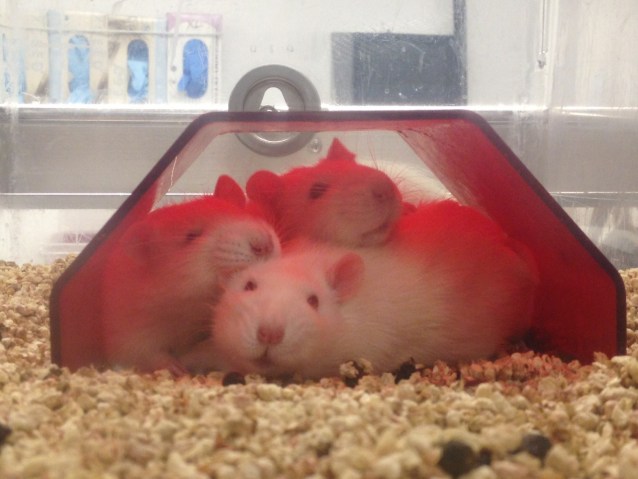 Leadership
Kevin Niswender, MD, PhD, Core Director
Tiffany Farmer, MS, Lab Manager
Alisa Escue, Core Administrator
Contact Us: kevin.niswender@vumc.org OR t.farmer@vumc.org

Location and hours of operation
| | |
| --- | --- |
| Hours | Location |
| 8 am - 4 pm, Monday - Friday | 807 LH |
Links and Resources
https://www.vumc.org/mpsr
Search available services:

View: by category alphabetically
►

Procedures - Surgery (6)
Name
Description
Price

Single Vessel Catheter

Carotid artery, Femoral artery, Jugular vein, or Femoral vein

Inquire

Carotid Artery + Jugular Vein

Double catheter

Typically used for:  Insulin clamp, Hyperglycemic clamp, DMPK, Tolerance test

Inquire

Carotid Artery + Jugular Vein + Ileal Vein

Triple catheter

Typically used for:  Pancreatic clamp, Insulin clamp

Inquire

Carotid Artery + Jugular Vein + Ileal Vein + Portal Vein

4 catheter

Typically used for pancreatic clamp

Inquire

Osmotic Pump &/or Pellet

Subcutaneous implant

Pump is to be prepared by investigator

Inquire

Cisterna Magna

Chronic single catheter placed in cisterna magna for CSF sampling over time

Inquire

►

Procedures - Study (6)
Name
Description
Price

Insulin Clamp

 

Blood sampled via arterial catheter 
Peripheral infusion of  Insulin
Peripheral infusion of Glucose to maintain desired concentration
(Optional) Peripheral infusion of 3-3H-Glucose to measure endogenous glucose production
(Optional) Bolus of 14C-2-Deoxyglucose to measure muscle glucose uptake

*Price of surgery not included

Inquire

Pancreatic Clamp

Blood sampled via arterial &/or portal vein catheter
Peripheral infusion of somatostation to inhibit endogenous production of insulin & glucagon
Intraportal infusion of insulin and glucagon at set concentrations
Peripheral infusion of glucose to maintain desired concentration
(Optional) Peripheral infusion of 3-3H-Glucose to measure endogenous glucose production
(Optional) Bolus of 14C2DG to measure muscle glucose uptake

*Price of surgery not included

Inquire

Rat DMPK Study

Blood sampled from arterial catheter
Administration of substrate(s) by single infusion or bolus via venous catheter, oral gavage, IP injection, or SC injection

* Price does not include cost of surgery, injection, or extra personnel time.

Inquire

Glucose Tolerance Test (GTT)

 

Blood sampled via arterial catheter
Oral, Intravenous, or Intraperitoneal 

* Price does not include cost of surgery, injection, or personnel time.

Inquire

Insulin Tolerance Test (ITT)

Blood sampled via arterial catheter
Oral, Intravenous, or Intraperitoneal 

* Price includes supplies.  Does not include cost of surgery, injection, or personnel time.

Inquire

CLAMS Energy Expenditure (per rat/day)

Comprehensive Laboratory Animal Monitoring System  (CLAMS) 

Charged per rat per day

Energy Expenditure, price includes 5008 meal.   Alternative diet charged separately.

 

Inquire

►

Personnel Time (2)
Name
Description
Price

Personnel (per day)

Per day

Inquire

Personnel (per hour)

Per hour

Inquire

►

Analysis (1)
Name
Description
Price

Tissue: 14C-2-DeOxyglucose

Per rat

Inquire

►

Supplies - Animals (1)
Name
Description
Price

Charles River - Rat

Each

Pricing is determined by Charles River catalog based on age/size, species, and gender

Inquire